So, I've had a couple of refin/rebuild projects done by John Scott over at
http://www.bluesmanvintage.com
and I've been really pleased. I started talking to him last year about a '63 J style build based on his El Dorado bass. I went back and forth over the color and decided (with the wife's prompting) on CAR with matching headstock and mint green pickguard. John got it finished up and took it to Summer NAMM, where it was captured by Premier Guitar highlighting Bluesman Vintage's booth as one of their Day 3 Editor's Picks
http://www.premierguitar.com/Magazine/I ... 6&#gallery
He shipped it out last week and I recveived it last Friday
I told John I was wanting something that looked like it had been around the block, gigged over the last 48 years or so but taken care of, not drug behind a truck. John does great aging and he's matched up a body only refin to the existing wear on my '72 P, and he does a lot of work for Kebo, so I knew he could handle the job. We've all seen a lot of these type builds from various makers that look "over the top" and just don't "look right". John's work, however, is slick and subtle.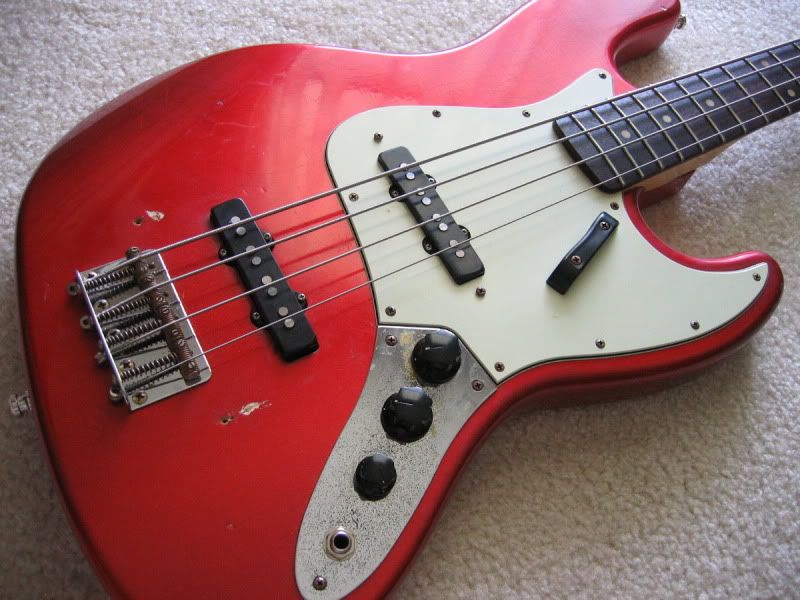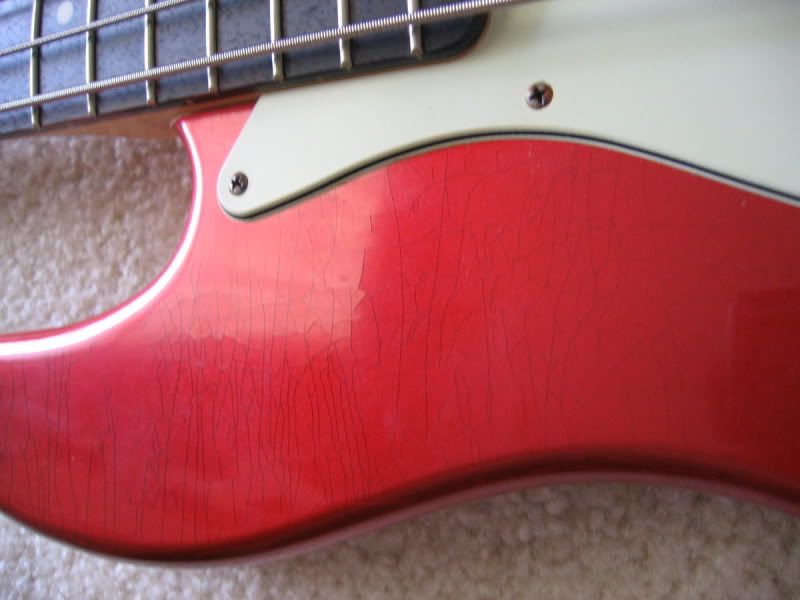 The neck is a Musikraft neck, slab rosewood board (rolled edges), vintage style frets and a vintage 7.5" radius. The profile is nice and slim and not "baseball bat-ish". It feels like a well worn bar of soap with no sharp edges or fret ends. Tall vintage reverse style tuners and the hootnanny button. John added just enough wear to various spots on the neck and headstock that it really turned out nice. The rosewood was stained a bit darker, and the position markers were slightly toned down to keep the vintage vibe going.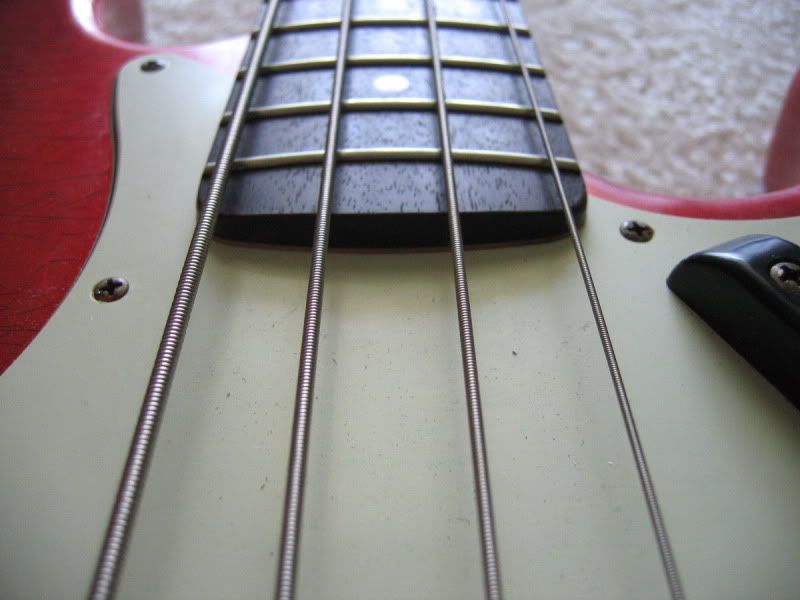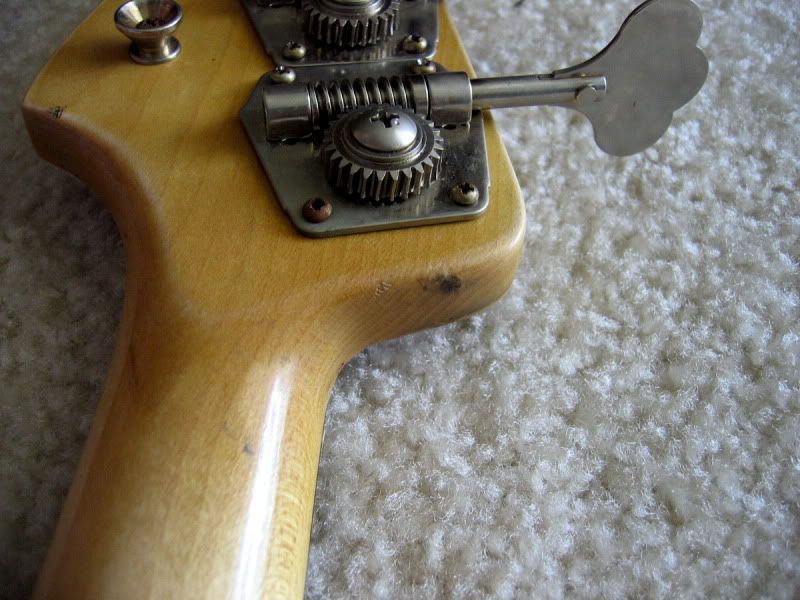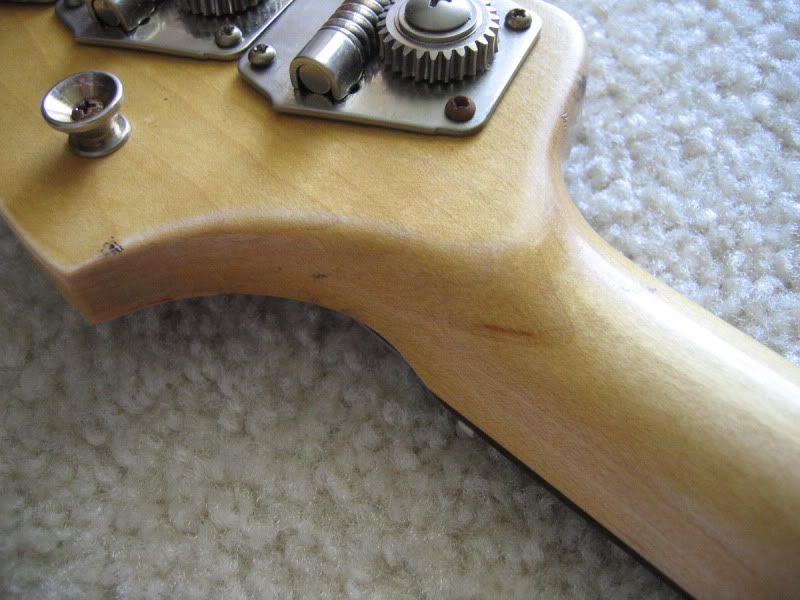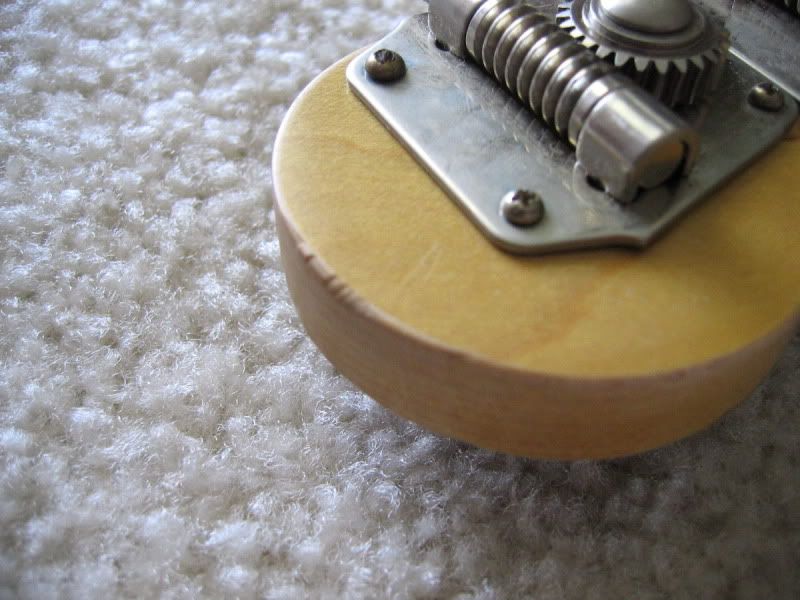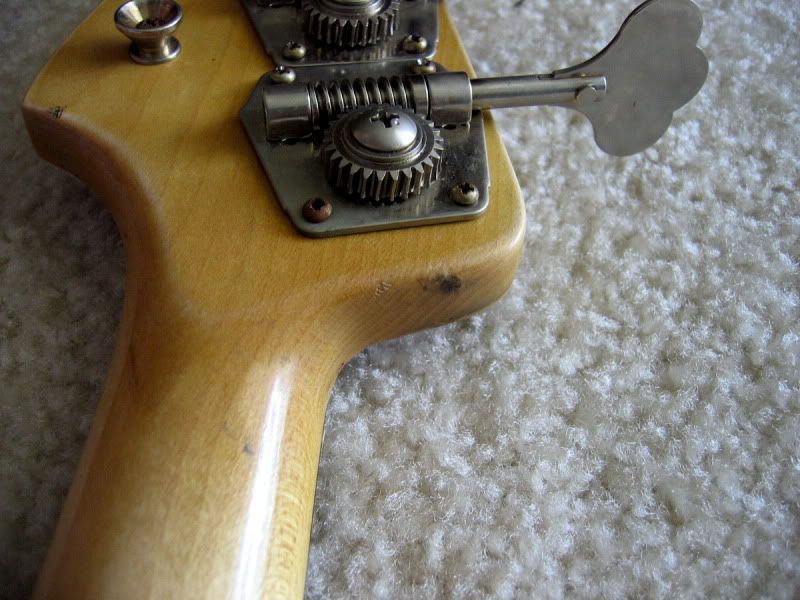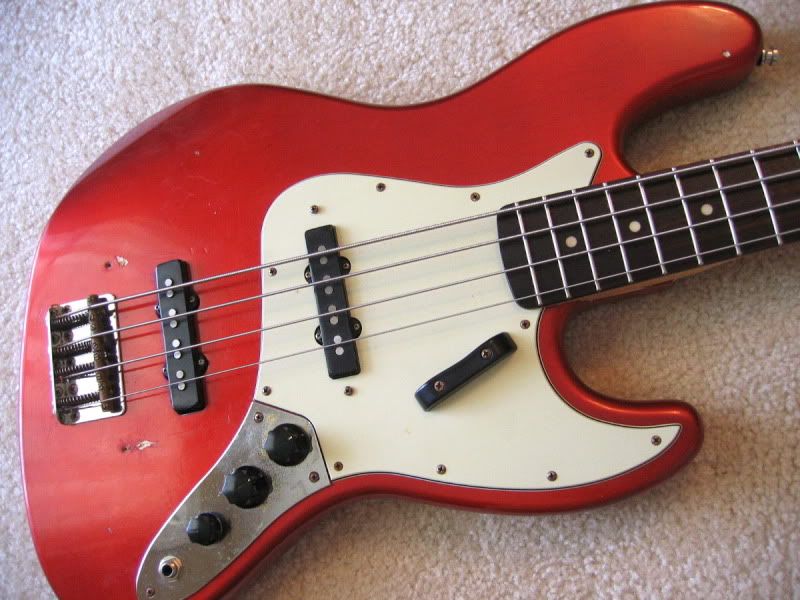 and the ubiquitous headstock ding from whacking it into the ceiling as recreated by John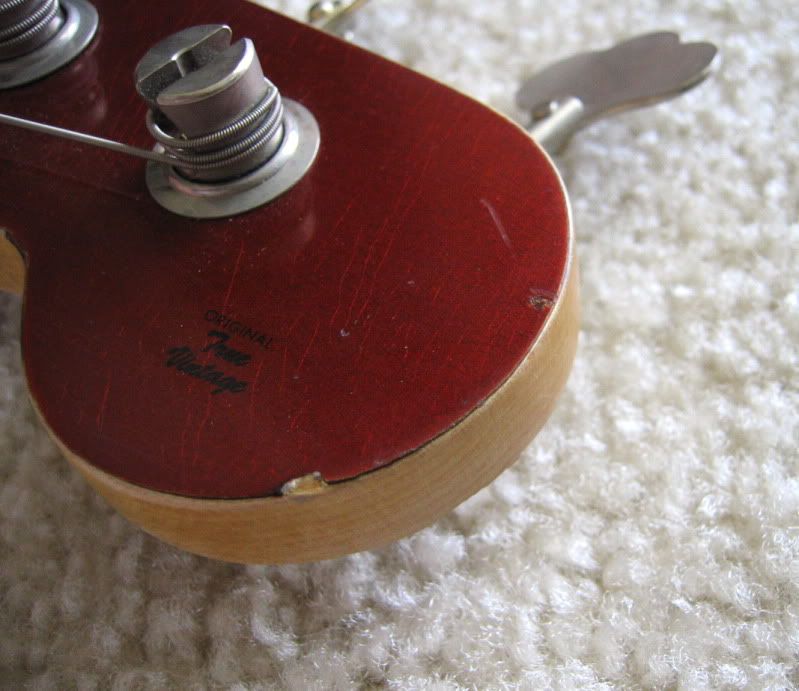 The pickups are the excellent David Allen Jazz bass pickups
http://www.dallenpickups.com/category_s/54.htm
that sound fabulous! If you haven't heard these before, do a quick search for his guitar/bass pickups on YouTube. You'll thank me later. John softened the edges of the pickup covers for that "worn-in look".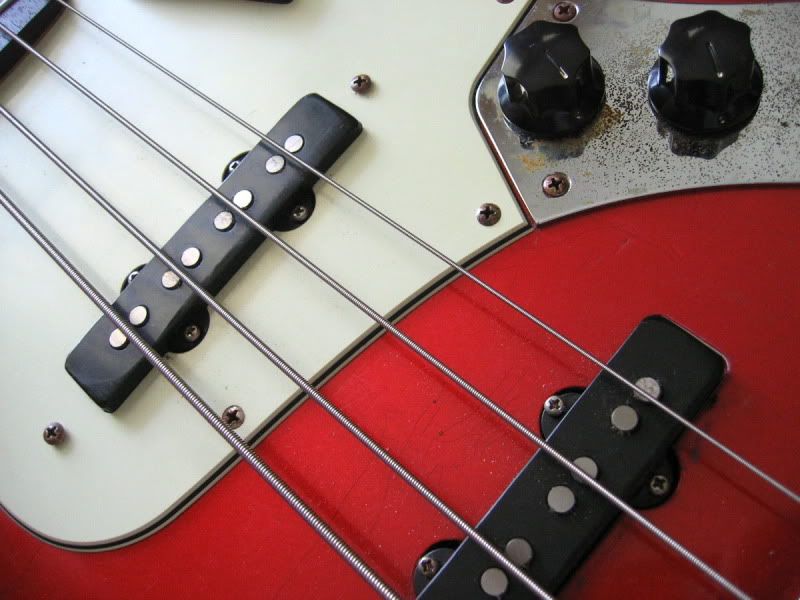 Also, at John's recommendation I went with a Redeemer circuit from Creation Audio
http://www.creationaudiolabs.com/redeemer
to give me all this sonic goodness:
"The Redeemer is an innovative buffer circuit that eliminates tone loss caused by the interaction of instrument electronics and the loading effect of the cable, effects units and amplifier. The instrument is effectively insulated from the rest of the signal chain providing these benefits:

IMPROVED NOTE CLARITY
Individual notes within chords are heard with greater detail - harmonics jump right out!

QUICKER TRANSIENT ATTACK
The guitar becomes very responsive to the players picking velocity and strength... This is something you will feel!

ULTRA LINEAR AND TRANSPARENT
The timbre of the instrument stays consistent, especially when "rolling back" the volume controls! No loss of high frequencies when you turn down your instruments volume - It's like having a master volume that keeps your tone the same at any volume level.

PLUG DIRECTLY INTO THE LINE INPUT ON A MIXER
Because the output impedance is less than 300ohms the circuit can easily drive a line input for going direct to a mixer.
This results in a clear, full range of tone that sounds better than using a direct box for live or recording applications."
I don't know, but it does sound good to my ears..
He gave the control plate a bit of oxidation for that "patina of age", and softened the edges of the control knobs. Also the tugbar was given the aged look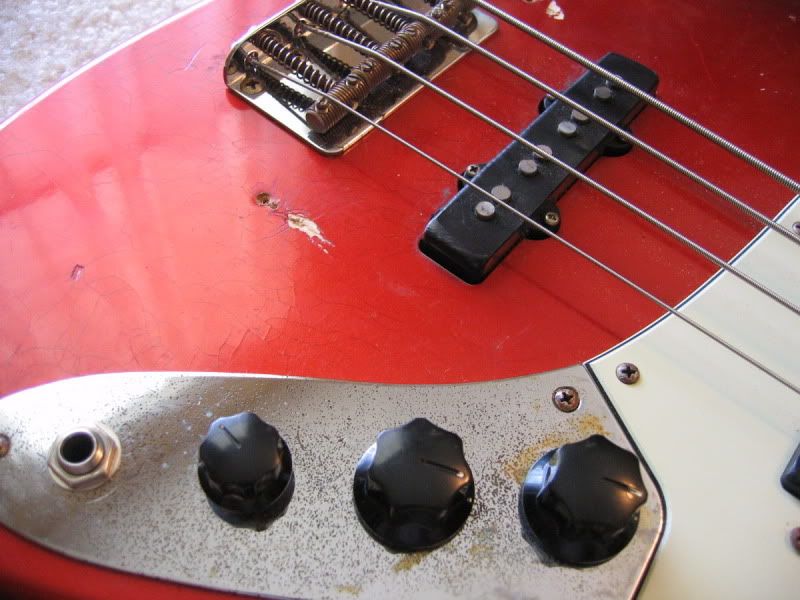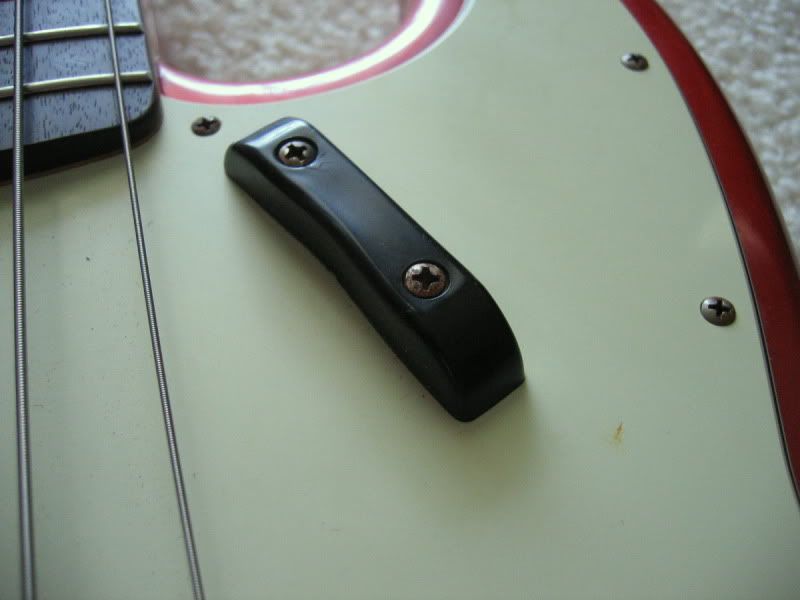 The bass shipped with a set of ashtrays, and a case is included (though John was out of cases at the time of shipping so it will come along later). I've had a number of Jazz style basses over the years, including Sadowsky, Lakland, Fender, and G&L. I've gotta tell you, this El Dorado sounds the best of them all and is equal to any of the others as far as components, fitting and assembly. Finish is a little hard to comparatively rate as this is the only aged jazz I've ever had! LOL!
To sum it all up, I'm pretty darned tickled.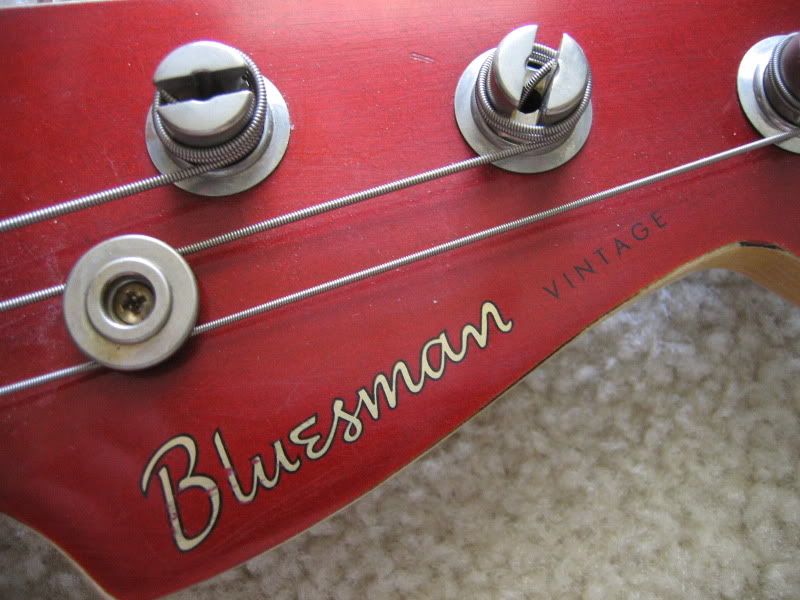 The complete pic collection here:
http://s95.photobucket.com/albums/l137/ ... 1QQtppZZ20