I just received an older Godin Acoustibass that was advertised as NOS.
http://cgi.ebay.com/ws/eBayISAPI.dll?ViewItem&rd=1&item=110150074443&ssPageName=STRK:MEWN:IT&ih=001
It is in perfect unplayed condition except for the control cavity under the preamp. When I was taking it off, I noticed two of the screws were stripped and then I could see that they were actually torn due to the fact the holes were placed so close to the edge of the control cavity. I expected to find two batteries because I was under the impression that these basses were all 18v.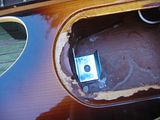 I think this is an older model Acoustibass because it has the funky Grover tuners and no access panel on the rear.
Pics:
I like the headstock shape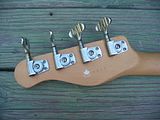 Very nice 'burst finish; looks great next to my '71 P-bass
I had to put it in direct sunlight to show the grain of the mahogany
I thought the look of the preamp would bother me, but it looks better in person than in the pics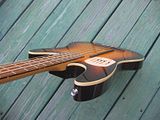 Shot of the electronics. The battery wires came loose upon inspection.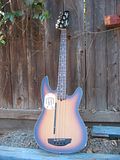 Stats:
7 lbs. 11.6 oz. (w/ battery)
1.75" nut
Strings: flatwound (Chromes?)
It plays nice right now with the flats that are on it (no buzzing) so I probably will leave the strings alone for now. As soon as I get the battery wired up, I'll give a report on how it sounds.