POLL: SHOULD FENDER OFFER A 'CARL RADLE' Tribute (sunburst) PRECISION BASS WITH ROSEWOOD BLOCKED & BOUND JAZZ NECK ??
Update! CURRENT Photos taken this week of THE REAL DEAL, Carl's UNIQUE '65 pre-CBS P-bass with custom blocked-and-bound rosewood Jazz neck & MATCHING METALLIC SUNBURST HEADSTOCK w/ LOLLY POP TUNERS now posted at the bottom of THIS MESSAGE!! Take a look! THE REAL DEAL ! EXTREMELY RARE .... matching headstock & lolly pop tuners!
Hello. I'm from Tulsa, OK.... the hometown of the late Carl Radle. For those who are not aware, Carl Radle's main recognition came from being Eric Clapton's sideman from 1970 to 1979.
Here's why I ask for your opinion this subject. First, I have listened to countless bass lines written by this man and I feel his talents have been long under-rated.
Second, his main playing bass was unique in that it was a Fender sunburst Precision Bass that had a rosewood blocked & bound Jazz neck installed. Fender has made VERY few P-bass models with any Jazz necks. Very few.
Third, if Lakland is successful in marketing the 'Duck Dunn' signature P-style bass with Jazz profile neck, then combined with the marketability of such an item and with Carl's history, AND THE FACT THAT THIS BASS IS STILL IN EXISTENCE, I think it would be a profitable venture for Fender.
Lastly, it would be a huge tribute for Fender to honor such a talented bassist that played the Fender brand for the majority of his career along side a Fender guitar Legend the likes of Eric Clapton.
I, for one, would pay up front for one of the first ones to roll out of production. My goal is to convince the folks at Fender Marketing Division that such a venture would be profitable, and that such a move that would be respected and appreciated by thousands of bass players worldwide. Again, this man flew the 'Fender flag' for about 15+ years.
So, please a Post if you think this would be a noble venture on Fender's part. Honestly, I have seen some Fender signature models for players I am not familiar with. Players with much less notoriety than say someone who played the bass line on the song 'Layla' and all of the Derek and Dominos releases.
Here is a photo of this bass legend with this bass in question: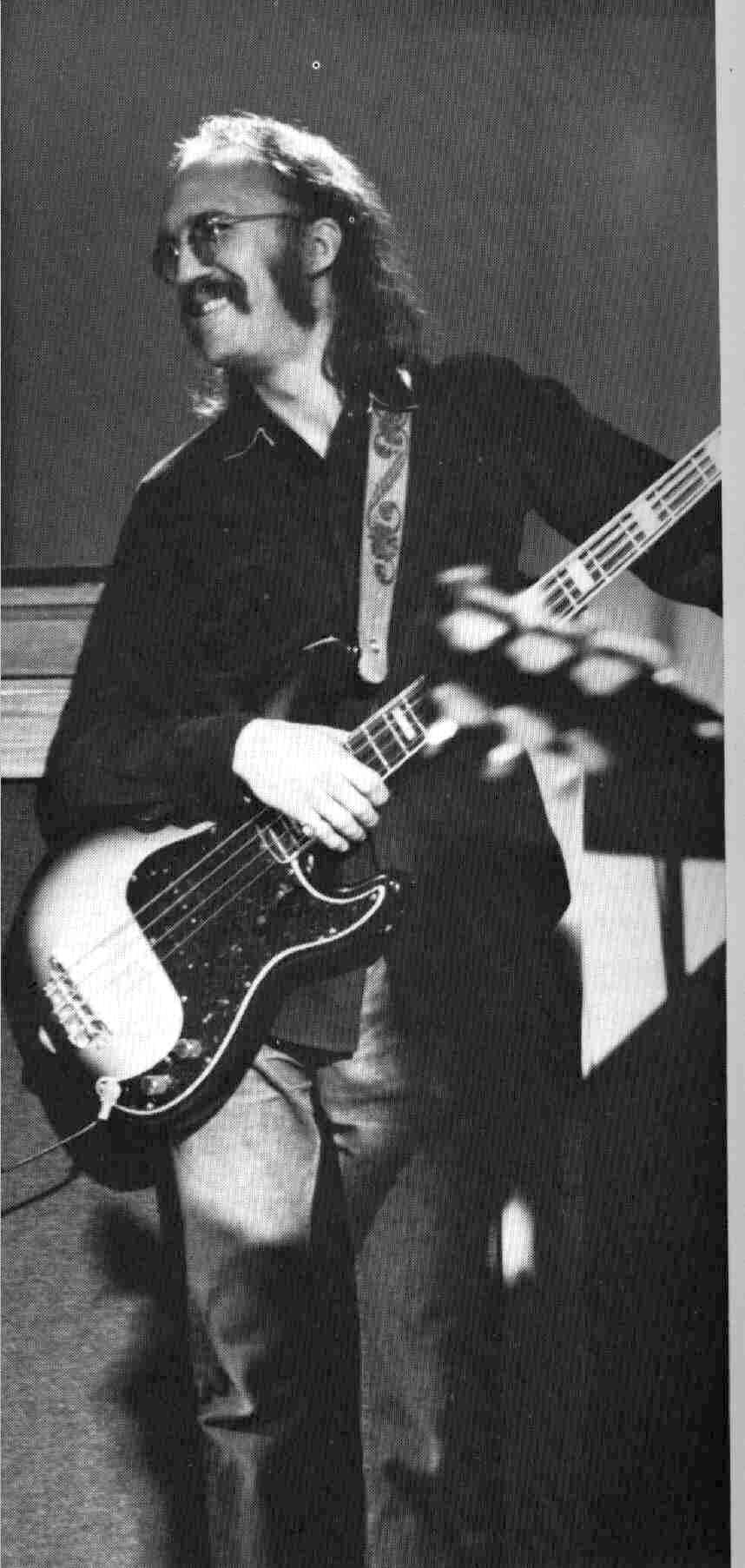 For those interested in more on the musician, Carl had a LENGTHY & SUCCESSFUL career and he was uniquely talented. FYI, from the Carl Radle (
http://www.CarlRadle.com
) web site bio page:
......."Carl Dean Radle was born in Tulsa, Oklahoma on June 18, 1942. Although clarinet and piano lessons in his childhood failed to fascinate him, sometime during his years at Edison High School (Tulsa) he fell in love with rock and roll. By the time he graduated in 1960 he had bought an old used guitar and basically began to teach himself how to play. As he became more accomplished, he began playing in local clubs with fellow friends and musicians David Gates, Russell Bridges (Leon Russell), Johnny (J. J.) Cale, Jim Markham, Tommy Crook, Jim Karstein, Chuck Blackwell, Larry Bell, and a host of others, even though most of them were under the legal age limit for being granted entrance into the nightspots.
After graduating from high school this group of musicians, who would have to be considered the vanguard of what was to eventually be dubbed "The Tulsa Sound", began migrating to California to try to break into the music business. Leon Russell was one of the earliest to make this move and his home/studio on Skyhill Drive in Hollywood became a haven for these young Tulsa musicians and assorted friends who needed a place to stay. They often played as back-up musicians in clubs, with new upcoming singers, like Bobby Rydell, fronting the act. During this time he recorded with a group called Skip & Flip, releasing a single, Tossin' and Turnin' / Everyday I Have to Cry.
After about a year of finding it difficult to make a living in the music world, in 1964 Carl decided to return to Tulsa and joined the Air National Guard, being stationed in Texas for about a year. After Carl's discharge in 1965 and when he had once again returned to Tulsa, Leon Russell called him from California offering a "huge opportunity", a position as new bass player for the Gary Lewis & the Playboys.
Carl decided to give the music business one more try and he made the move back to California. He recorded and toured with Gary Lewis & the Playboys for about one year, making appearances on The Ed Sullivan Show, Shindig, Hullabaloo, and The Tonight Show. Fellow Tulsans Jimmy Karstein and Tommy Crook were also members of this group, and during this time they spun out many "top ten" singles, including "Everybody Loves a Clown" and "Count Me In." To date, Carl's contributions are included on fourteen of Gary's albums. This trip came to an end, however, when in January of 1967 Gary was called into military service and the band dissolved.
Carl remained in California doing studio work and pick-up gigs including working behind Dobie Gray in club engagements. He did some recording with John Lee Hooker and appeared on two albums ("The Colours" and "Atmosphere") in 1968 with a group called The Colours, which also included Tulsan Chuck Blackwell. In 1969, Leon Russell once again influenced Carl's destiny, by introducing him to Delaney and Bonnie Bramlett to help form the group "Delaney, Bonnie & Friends." This group also included Leon, Rita Coolidge, and Dave Mason. On tour the group performed as the opening act for "Blind Faith," a group which included Eric Clapton. Upon Blind Faith's demise, Eric Clapton joined up with the Bramletts for a tour and album titled Delaney & Bonnie & Friends on Tour. Carl collaborated on writing and arranging two of their hit songs, "Get Ourselves Together" and "Never Ending Song of Love."
This group disbanded after about a year and in early 1970 several of the members, including Carl, joined Leon Russell who was forming the "Joe Cocker, Mad Dogs and Englishmen" ensemble. The company had more than two dozen musicians and performers, and the tour covered 46 cities in 56 days. From it emerged the biggest rock and roll tour in history, a major movie and a gold album.
In the meantime, Bobby Whitlock had started hanging with Eric Clapton who wanted to put together a group to tour and promote his first solo album. Bobby called in Carl and L.A. born drummer, Jim Gordon. Sidetracked at first, they took time in May and July of 1970 to collaborate with George Harrison on his "All Things Must Pass" album, which included the hit singles "My Sweet Lord" and "What is Life". During a break in June, Eric, Jim, Bobby and Carl began seriously rehearsing and they completed their first single, "Tell the Truth, with "Roll it Over" on the B side. After the George Harrison sessions were finished in late summer of that year, Clapton's new group resumed sessions at Criteria Studios in Miami, Florida, with Tom Dowd at the production helm, resulting in what has become one of the greatest classic rock albums of all time, "Layla and Other Assorted Love Songs". Duane Allman's guitar work was also a prominent contribution to this effort.
The group took time off in August of 1971 to help George Harrison in his benefit effort, the Concert for Bangladesh, an ensemble of great artists including Bob Dylan, Billy Preston, Ringo Starr, Leon Russell, Jim Keltner, and others. The two live concerts held on August 1, 1971, at Madison Square Garden resulted in another album and movie.
Derek and the Dominos began working on sessions for another group of songs, but being dissatisfied with the results and the tensions that resulted, the band dissolved and a disillusioned Eric took a three year hiatus. For the next three years Carl stayed busy with session work on projects by various artists, including Art Garfunkel, Duane Allman, John Lee Hooker, Rita Coolidge, Leon Russell, Bobby Whitlock, Donovan and Freddie King.
In April of 1974, Eric Clapton was coaxed out of seclusion and resurfaced with a band consisting of George Terry, Carl Radle, Jamie Oldaker, Dick Sims and Yvonne Elliman on vocals. The group once again began recording in Criteria Studios, under Dowd's direction, to create the popular "461 Ocean Boulevard" album. Carl again brought his arranging abilities into play on the "Motherless Children" track for this album. For the next five years, Carl, Eric and this group of musicians including the addition of vocalist Marcy Levy, worked closely together on an almost endless string of highly successful gold and platinum albums.
In 1979, Eric was ready for a new sound. That summer he dissolved the band and all the musicians went separate ways in their careers. Carl worked for a while with Peter Frampton, but soon returned to Tulsa where he enjoyed working with local musicians once again. He died in May of 1980, at age 37, from the effects of alcohol and narcotics.
In the Playboy Jazz and Pop Poll, Carl was ranked yearly in the top ten bass players, ultimately reaching the number two spot although he never played jazz as such. In one of the most competitive of all fields, Carl Radle, a kind and gentle soul and a devoted and respected musician, lived his career at a pinnacle that very few ever reach. He was known and labeled as "A Musician's Musician."
~~~~~~~~~~~~~~~~~~~~~~~~~~~~~~~~~~~~
Carl Radle was inducted into the Oklahoma Music Hall of Fame in 2006. In my opinion, next stop is Cleveland, Ohio at the Rock and Roll Hall of Fame.
Thank you very much for taking the time to read and consider this idea that I feel would be a very worthy cause & tribute.
P.S. Some shots of his original bass: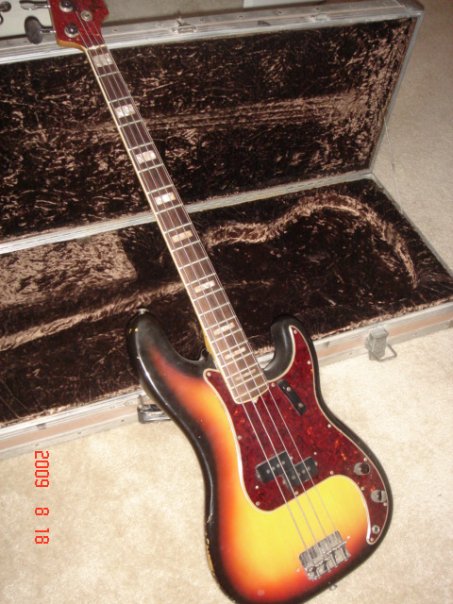 Carl's '65 Fender P-Bass
__________________
Dan W. Howard
#1 Fan of the late Carl Radle