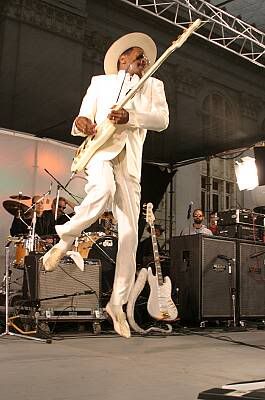 Although bassplayers for decades, indeed into antiquity, had been "slapping" their basses with their thumbs using a rotation of the wrist, Larry Graham pioneered the art of slap-POP playing on the electric bass guitar. The slap-pop style, archetypical of modern funk, couples a percussive thumb-slapping technique of the lower strings with an aggressive finger-snap of the higher strings, often in rhythmic alternation. So-called "Machine-gun bass" (as exemplified by Mark King, Flea, Stanley Clarke, John Norwood Fisher, P-Nut, Dirk Lance) relies on the slap-pop technique, incorporating a large ratio of mute/ghost tones to normal tones.
Graham played bass in the highly successful and influential funk band Sly & the Family Stone from 1967 to 1972. Upon the band's disintegration due to lead singer Sly Stone's drug addiction, Graham formed his own band, Graham Central Station. The name is a pun of "Grand Central Station", a famous train station located in the Manhattan borough of New York City. Graham Central Station had several hits in the 1970s, including "Hair."
In the early 1980s, Graham recorded five solo albums and had several solo hits. His biggest hit was "One in a Million You," which reached number 9 on the Billboard chart in 1980.
He recorded another album in the late 1990s, with a new band using the Graham Central Station name. Two of the new members were former Family Stone bandmates Cynthia Robinson and Jerry Martini. He also toured with Prince and his band as his bassist in 2000.